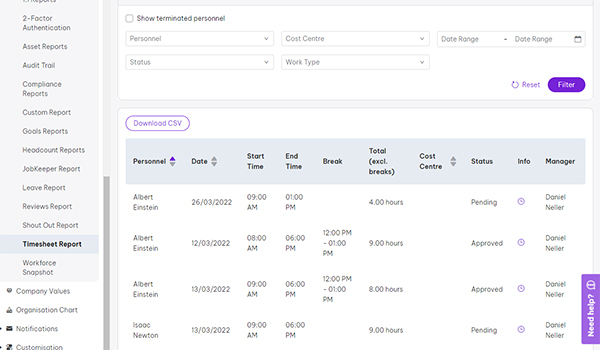 HR Reporting Software
What is HR reporting?
HR software stores important data about your business, but that data is of no use if you can't access or interpret it in a way that works for you. Our comprehensive HR software reporting makes it easy.
Turnover, time-to-fill, cost per hire, absenteeism, full-time equivalent (FTE), wage costs, workforce demographics, leave and attendance, performance reviews, qualifications, mandatory training, overtime, productivity, compliance - we have you covered on your key HR and payroll metrics.
Business reporting is also covered with a range of security and compliance reports available including audit trails, asset registers, compliance reports and much more.
Still not satisfied? Then make your own report using our custom report builder. Select from any or all of the data available to create a report that works for you!
Why do I need HR reporting?
If you understand your business better, you'll make better decisions. Shape your HR practices to support your people and fix any issues that may be holding your team back. Get a true understanding of the key analytics about your workforce.
Who needs HR reporting access?
HR reporting access is configured to your business environment. Employees may want to access reports on their attendance, leave, timesheets, performance etc. Managers and leaders can be granted access to more detailed business reporting to identify workforce patterns and make informed decisions about their team. Payroll and HR teams can have access to reporting at a workforce-wide level.
How do you access HR reports?
Reporting can be carried out through an easy to use interface on a cloud based system. Once given the required access level, access to reports and dashboards can be obtained through a website or phone app on the internet.
Final thought
Comprehensive HR software reporting can help a business to thrive by making better data-informed decisions. Real time data and custom reporting can provide useful insight about the best HR practices for your business.