Business HR Essentials Pack
$1,650 +GST
Are you a small business owner and unsure where to start in meeting your employment obligations? Let us set you up with the essentials, including employment contracts, policies and forms.
This is a tailored solution for each business, where we design documentation that works in your business environment and is legally compliant. Documentation is branded with your logos, giving you a professional image from the start.
Take the guesswork out of employment, by engaging a Nellers HR Consultant to develop your HR Business Essentials Pack today.
Allow your business to flourish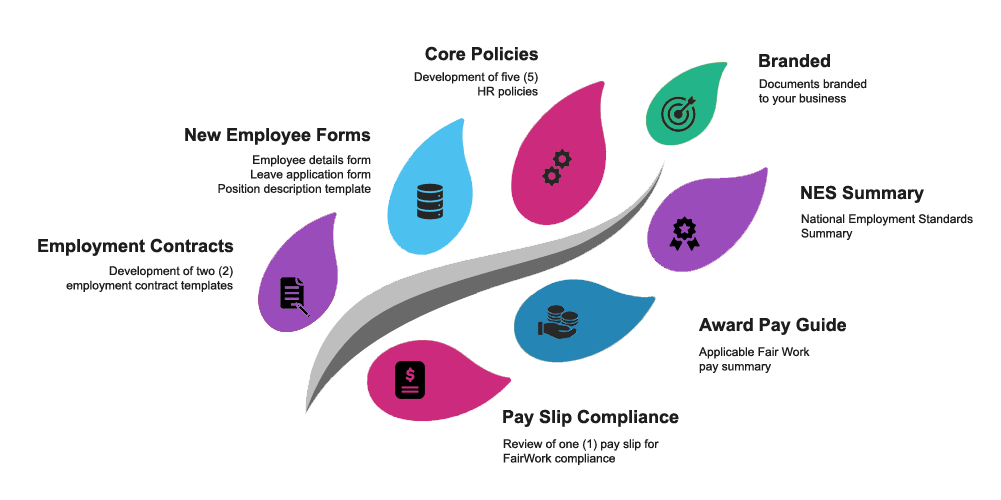 What's included?
Based on your business needs, your HR Business Essentials Pack can include the following:
Development of two (2) Employment Contract Templates – based on the conditions of one (1) Modern Award
Award Pay Guide – the applicable Fair Work pay summary so that you understand the classifications and subsequent pay rates and entitlements for your employees
National Employment Standards (NES) Summary – to help you to understand what the NES are and how they apply to your business
Development of five (5) Core HR policies. Choose from:

Code of Conduct
Bullying and Harassment Policy
Equal Employment Opportunity and Anti-Discrimination Policy
Sexual Harassment Policy
Grievance Policy
Leave Policy
Workplace Health and Safety Policy
See our Policy page for more options.

Review of one (1) pay slip from your latest pay-run to ensure that the pay slip meets the requirements of the Fair Work Regulations

New Employee Forms and Links including:
an Employee Details Form for all the information required to set new employees up in your system
a Leave Application Form to assist in keeping track of requests and approvals for all types of leave
a Position Description Template to help set expectations of what employees will do in their role
We also include links to the relevant Fair Work Information Statement/s, Tax File Declaration and Super Choice Form which should be provided to all new employees on commencement