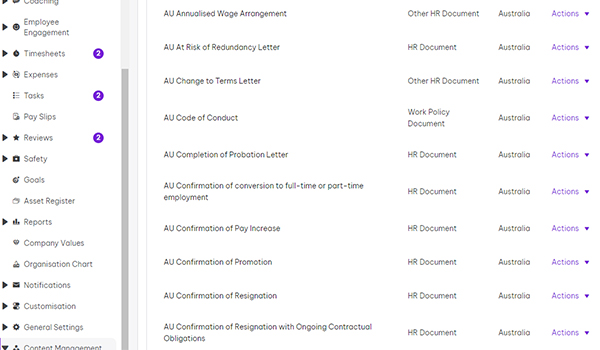 HR Document Management Software
Can't keep track of your contracts, policies and templates?
Store them in one easy to find location and keep track of the latest version of each document. Employees will be able to access the documents they are granted access to, such as their employment contract, saving time on administration.
Streamline using Document Templates
Are you writing documents as required to suit the business demands? Document templates will streamline the process and ensure accuracy and professionalism through reduced admin errors. Documents can be standardised to ensure all of the information required is included the first time.
What are the advantages and disadvantages of template management software
Template management is a great way to keep track of and standardise documents. However, if the files are downloaded and stored locally, any changes made online will not be reflected in the downloaded files. This means old versions of the same document can still be in circulation. It's important to ensure all employees are accessing the cloud versions.
Not sure if your policies are up to date?
We can carry out an obligation free HR health check to put your mind at ease. Any shortfalls can be easily rectified by our team of HR experts and we can provide ongoing updates with any changes to workplace laws.